DUAL BOOT RETROPIE 4.8 - ANDROID 12 EXTREME EDITION
Looking for the ultimate gaming experience on your Raspberry Pi4? Look no further than Digital Arena Retro's Dual Boot system featuring Retropie 4.8 and Android 12 Extreme Edition. With the ability to emulate PS2 and play Wine games, this system is perfect for any retro gaming enthusiast. Visit our product page to learn more and order today!
Here you can find more informations about DUAL BOOT RETROPIE 4.8 - ANDROID 12 EXTREME EDITION
ANDROID 12 FEATURES:
Double front end Retropie 4.8 and android 12 in a single 256 gb sd, Android front end allowing the performances for playstation 2 emulation and pinball machines and also play a lot of games unavailable under linux/Retropie system.
GOOGLE PLAY SERVICES ENABLED:
Connect to a Google play store account for download and play additional games or use your pi4 / pi400 as a tablet.
ANDROID COMPATIBLE ENCODER / JOYPAD NEED:
Under android system usb ekeyboard and mouse are automatically recognized, for use an arcade stick or a joypad you must use a compatible android device.
RETROPIE 4.8 FEATURES:
Thankx to the latest updates finally we introduced Windows emulation trought Wine including a set of playable games, due to the high resources needed system must be overclock trought the dedicated script for a good gaming experience,System has been tested with great results under Raspberry pi4 4GB and 8GB version, 2GB version it may suffer some problems with wine emulation with some games due the limited memory available
GAMES DOWNLOADER ENGINE :
Our Retropie plus system ( Games download engine ) is already included, trought this easy interface you will be able to download the games with their description and media directly into your device.
SEGA MODEL 3 AND GAME CUBE EMULATION:
Another addon, we implemented the Sega model 3 system and Game cube emulator, squeeze your Raspberry till the last MHZ :-)
DEDICATED SERVICE:
Users that purchase this system will be followed directly trought whatsapp or email ( ENGLISH LANGUAGE ONLY !!!. for any question or usage clarification in order to give you the best gaming performances.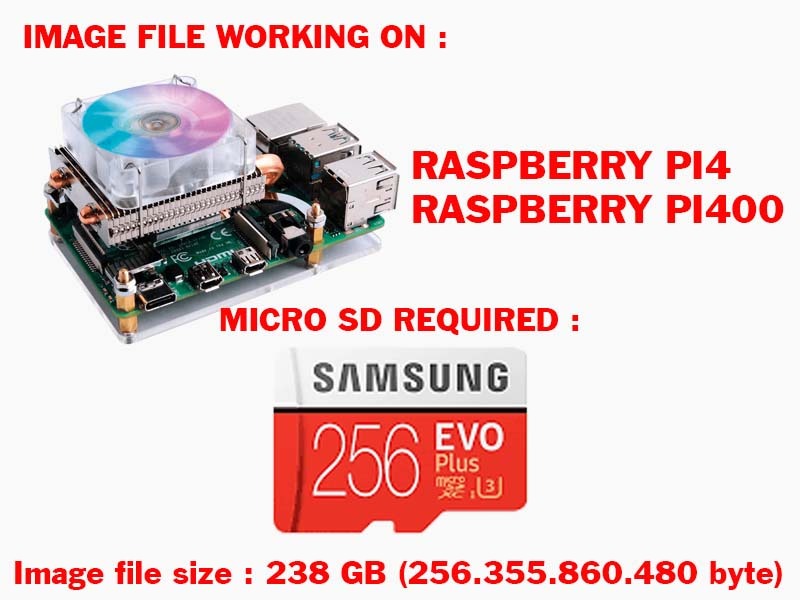 SD CARD REQUIREMENT:
Is so important choose the right sd card, cheap sd card can reduce the general performances and different brands than the one suggested may haven't the right space available fro write the image file.
BOOT FROM HARD DISK :
This particular iso cannot boot from an hard disk , Hd can be added as external storage for host more games.
LARGER SD CARD
Dual boot system doen't allow filesystem resize, this mean that you cannot use a 512 or more micro sd card, you can add an external hard drive for store more games in case of.
QUESTIONS: For any doubt or questions before purchase contact us, We are here to give you all the informations you need.

TECHNICAL SUPPORT: Problems can happen but we believe that with a mutual communication everything can be fixed, for any issue or trouble, contact us and we will reply you as soon as possible.

RETURN POLICY: This is a digital download item, we do all of our best for inform the customer that no any physical item will be sent; after the links has been sent return requests will be rejected.